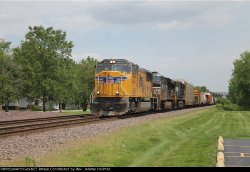 Welcome to the RRPictureArchives.NET contributor site of Rev. Jeremy Heilman.



What you see here represents a lifetime of chasing trains. Howie Castellucio and I started chasing them on bikes before we were old enough to drive or had cameras to take pictures with. Once we had cars and drivers licenses, it seemed like every weekend we could, we were out chasing trains for as long as our parents would let us. I shudder to think the amount of money we spent on gas and film.

As we got older we kept chasing, although not always together, and kept taking pictures.Some of the places we used to go to take them you can't get near anymore and some of them don't even exist, but we keep taking pictures and keep documenting some of the great, and lesser known, railroads. The pictures aren't always perfect (it's amazing how something as big as a train cen sneak up on you), but they're what I have and I'm happy to share.

I continue to take pictures wherever I can and try to pass the love of trains along to my kids, and anyone else I talk to for that matter. Please enjoy the pics and if you have questions, ask. God bless and keep hunting trains. You never know what you might find.



You may browse my collection of pictures via the menu located on the left hand side of the page. I hope you enjoy the collection and thanks for stopping by!